2017 for me was a mix of progress, sleep deprivation, and big ass life events. I tried and failed at putting together a year in review last year so I'm glad I hammered this one out.
What Went Well
Here's a hodgepodge of life events and accomplishments that I'm stoked about from 2017.
Got Hitched!

Best day of my life.
Bought a House
If getting married wasn't already mind blowing enough for me, we moved into our newly bought house just months later. The house was a fixer upper so it took a few months of renovating.
Going from renting a high-rise condo to owning a house north of downtown was a game changer. We have way more space now and getting in and out is so much faster. Our area also has a ton more affordable restaurant options than downtown.
I absolutely loved living in downtown Austin and totally recommend it to anyone moving here if you can afford the price tag. For us, it just made sense to make the move.
The Kettle & Fire Rocketship
I joined Kettle & Fire as the first employee almost 2 years ago and man, I am so happy I made that decision.
In 2017 we grew to a team of 9, released 2 flagship products, launched nationwide with Whole Foods, built a huge eCommerce customer base and hit our lofty year end revenue goal. Not too shabby.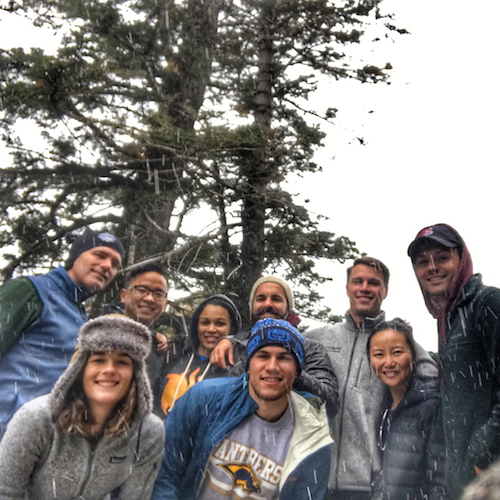 I credit the entire team with helping us get to where we are today. Just a solid group of A players who get shit done and don't get caught up in all the startup hoopla. We learn and work together every day with a healthy mix of deep work and radical candor. It is so rare to be in this situation and cannot wait to grind out another record breaking year in 2018.
Travel
I visited a total of 13 cities in the US this year. Hard to say which was my favorite though Scottsdale, Tahoe, San Diego, and Gulf Shores were the stand outs. We didn't get to go on our honeymoon so all my traveling was stateside. You can jump to the logbook section of this post to see the full list.
I also started churning credit cards in 2017 to rack up travel points. This turned into a slight addiction that eventually led to me getting denied left and right from cc companies. Denial letters aside, this turned into a fun hobby that's already netted me 3 free flights.
Fitness
No huge accomplishments here. Just didn't get fat and completed another successful soccer season. I did start a membership at the Austin Bouldering Gym but ended up cancelling it due to price. I'm starting to get into strength training in 2018 along with experimenting with the Keto diet.
What I'd like to do better in 2018
Make more progress on side projects
My LLC stalled due to my co-founder and I taking leadership roles in our full-time jobs. I also couldn't find gaps during the week to consistently work on some of the ideas bouncing around in my head.
To fix this going forward, I did a deep dive into productivity and time management. Big thanks to Nat Eliason and Tiago Forte for writing up some great content on these topics. Definitely check out Nat's High Output Life series and the Praxis blog for practical productivity advice.
I've since created a system to manage my day-to-day tasks and prioritize my time. This should allow me to pump out more work towards my side projects and other stuff like writing on this blog.
Sleep better
Fuck, this was rough. I've dealt with insomnia on and off since forever. This past year was especially difficult. I could blame it on my workload but this is all self-inflicted. I have the tendency to work on stuff late at night and don't consider 2nd or 3rd consequences in the moment. Stupid Jack. I'll be following a more structured schedule with work blocks to eliminate this going forward.
Build stronger relationships
Building relationships have been in the back window for a while now. I've always been an autodidact and I guess you could label me as an individualist. This behavior is fueled by my tendency to be highly skeptical for better or worse. Combine it all together and you have someone that loves reading and working on cool shit but hates going to a dinner party or talking to someone on the phone.
The realization I've had in the last year is that I'm shooting myself in the dick by being so closed off. Every relationship brings in new opportunities and makes life just a little more interesting. I do consider myself introverted, but it's not something I should lean on to avoid meeting someone new.
2017 Logbook
Books I read
High Output Management
The War of Art (re-read)
The Score Takes Care of Itself
Dream Land
Dark Matter
Be Slightly Evil
Misbehaving
Pre-Suasion
I Will Teach You To Be Rich
The Subtle Art of Not Giving a Fuck
The Millionaire Fastlane
Never Eat Alone
Principles
Authority
The Obstacle is the Way (re-read)
Striking Thoughts
Fearless Salary Negotiation
The 4-Hour Work Week
2017 was a mix of management, philosophy, entrepreneurship, consumer psychology, and finance. All stuff that has been top of mind for me. I read 18 books and averaged about 1.5 books per month. Goal for 2018 is to ramp up to 2x and branch out to other topics of interest.
Places I visited
Scottsdale for bachelor party at the Waste Management Open
Greenville to visit grandma :(
Gulf Shores for Hangout Fest round 3
Port Arthur, Texas - slept in a shipping container
Chicago for Kettle & Fire (K&F) team retreat
Michigan for 4th of July
Houston 4x
Denver
Dallas 2x to visit family + Michigan vs Florida game)
Horseshoe Bay for getaway weekend
Tahoe for K&F team retreat
San Diego for a boy's weekend
San Francisco for K&F marketing team planning
Albums I played most
Bonobo - Migration
Mount Kimbie - Love What Survives
Brand New - Science Fiction
Four Tet - New Energy
Floating Points - Reflection - Mojave Desert
Sampha - Process
Geotic - Abysma
Future - FUTURE
Kendrick Lamar - DAMN.
Mura Masa - Mura Masa
While some of my favorite albums of 2017 are in this list, I wouldn't consider this my top 10 of the year. Some of these albums (ex. Bonobo's Migration) are a reflection of me trying really hard to get into the music by re-listening. Not surprising to see a lot of electronic here given my listening habits while at work.
Shows I saw
James Blake - ACL Live (9/25)
The XX - ACL Live (5/10)
Pinegrove - Barracuda (9/29)
Justin Timberlake - Circuit of the Americas (10/21)
Dead & Company - Frank Erwin Center (12/2)
Louis CK - ACL Live (1/4)
SXSW - Various (3/10 - 3/18)

Vince Staples, Lewis Del Mar, Charlotte Cardin, Rag n' Bone etc.

Austin City Limits - Zilker (10/7)

Red Hot Chili Peppers, Spoon, Cut Copy, Black Angels

Hangout Fest - Orange Beach (5/19 - 5/21)

Chance the Rapper, Phoenix, Major Lazer, Marshmello, Rufus du Sol, Lil Yachty, Lewis Del Mar

Day For Night - Barbara Jordan Post Office (12/16)

Princess Nokia, Pretty Lights, Cardi B (terrible), Nine Inch Nails, Tyler the Creator
That about does it. Here's to a new year full of growth, new experiences, and less reliance on OTC medicine to put me in a sleep coma!